2006 Imported Bay Fell Pony Stallion
FP70844C
13.1hh, EE,An, no white marks, 10" flat bone
Rundales Garry x Brackenbank Elizabeth
FIS Clear
"Hands down, the most delightful pony I have ever ridden."
Kimberly Dunn
When Braeberry Farm sent Copper to us for training in 2013, I instantly fell in love with him. Copper has the most appealing social charisma dripping with charm and affection. Our first Fell pony, Braeberry Victor, wowed us with his intelligence, curiosity, and attitude. After Victor, we worked with 2, 2yr. old Copper mares and found them to be in the same vein. So when Copper came to us, we instantly saw where this enthusiasm came from. In 2017, we were given the opportunity to make Copper a permanent resident at FiddleHead. We have immense gratitude towards Cheryl Dutton of Braeberry for importing and eventuallyallowing us to have this once-in-a-lifetime opportunity.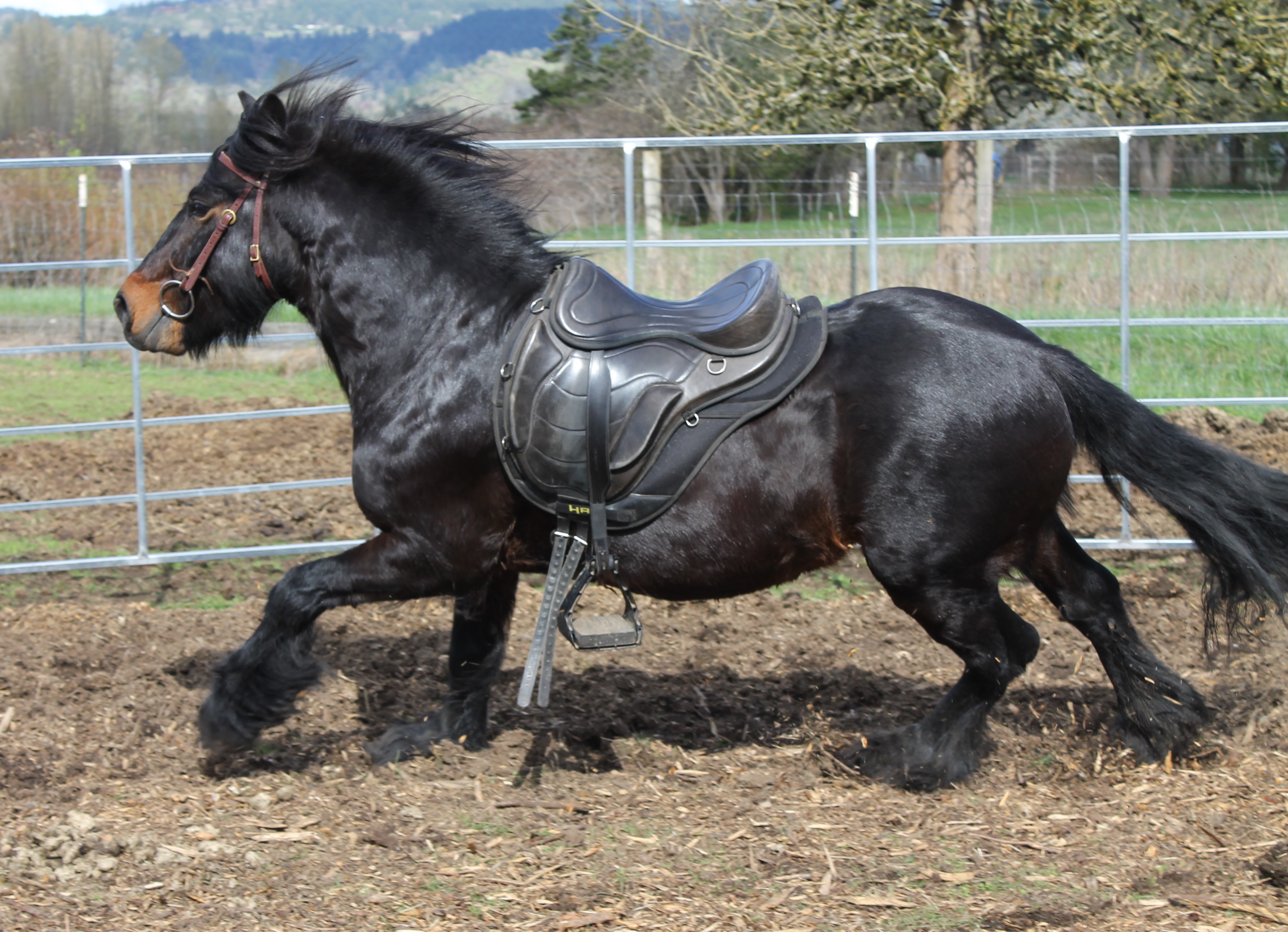 A very balanced moving pony, never feels heavy on the fore-hand.
********************
Copper joined other Fell ponies to represent the breed at the NW Horse Expo in Albany, Oregon in 2014 and 2015. Both times, her rode in a group of mixed company. In 2015, Copper also participated in the Stallion Showcase held at the expo where he rode in a neck rope and did some unique liberty.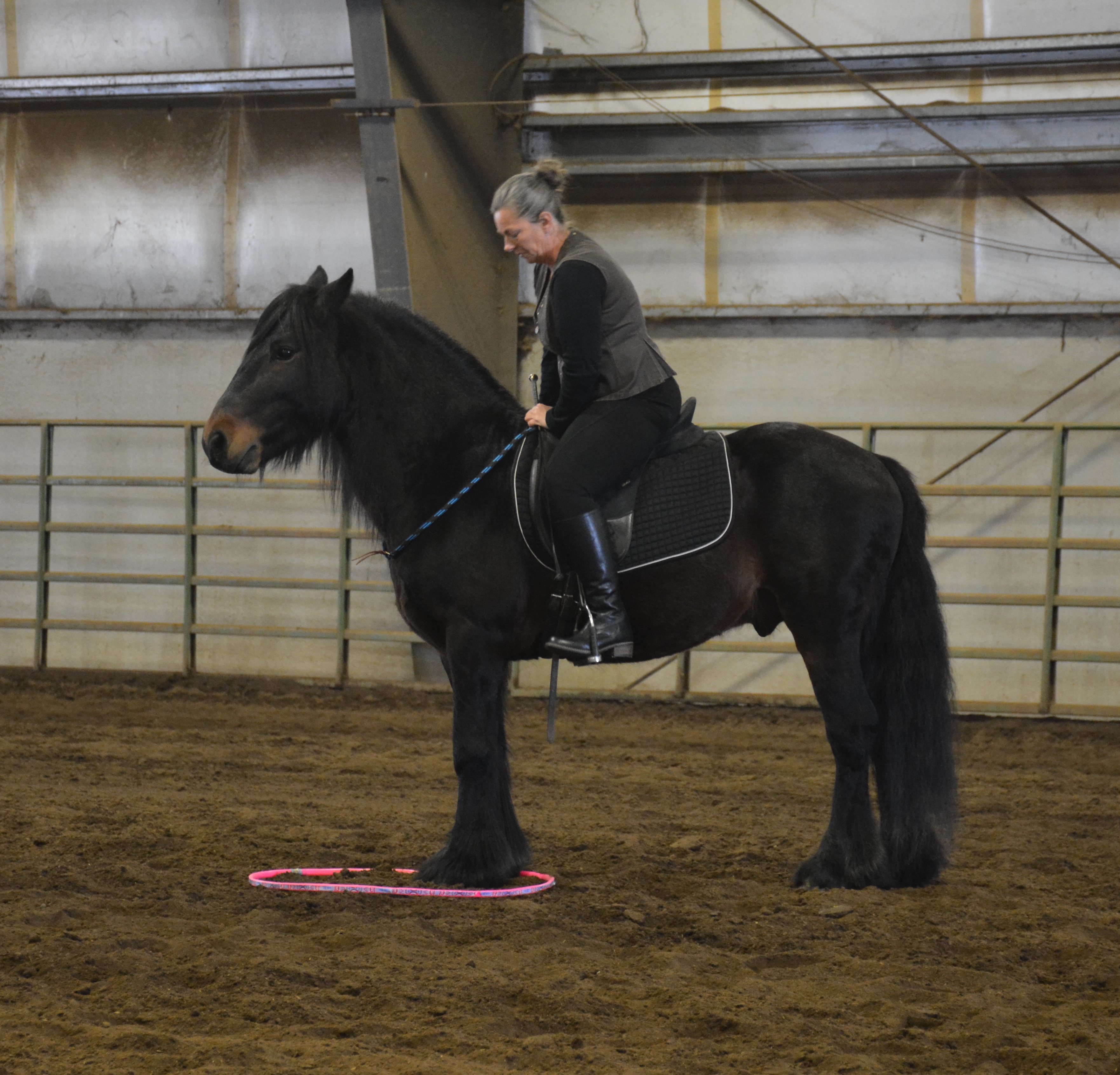 Copper doing part of his routine at the NW Horse Expo Stallion Showcase, circa 2015. Photo by C. Dutton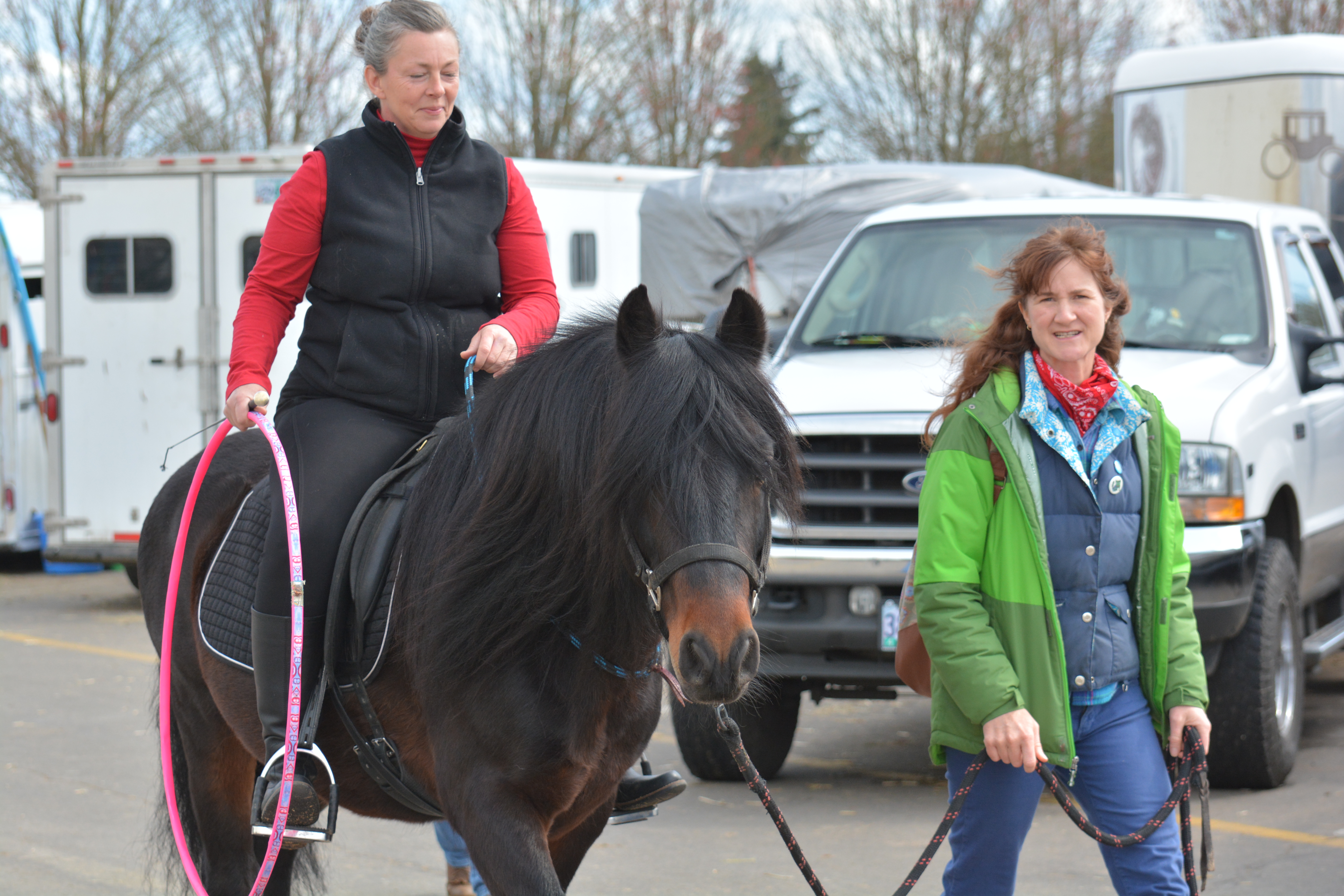 Copper waiting for his turn in the arena. circa 2015 photo by C. Dutton
********************
In 2015, Copper attended the largest Mountain & Moorland show on the west coast. Copper won Stallions, then took Breed, going on to win Supreme Champion M&M. There were 23 ponies total that year with 15 being Fell ponies. Two young progeny (Braeberry Ruby, Braeberry Bodi) also attend with Ruby taking multiple placings and Bodi taking 1st in colts 3yr./under.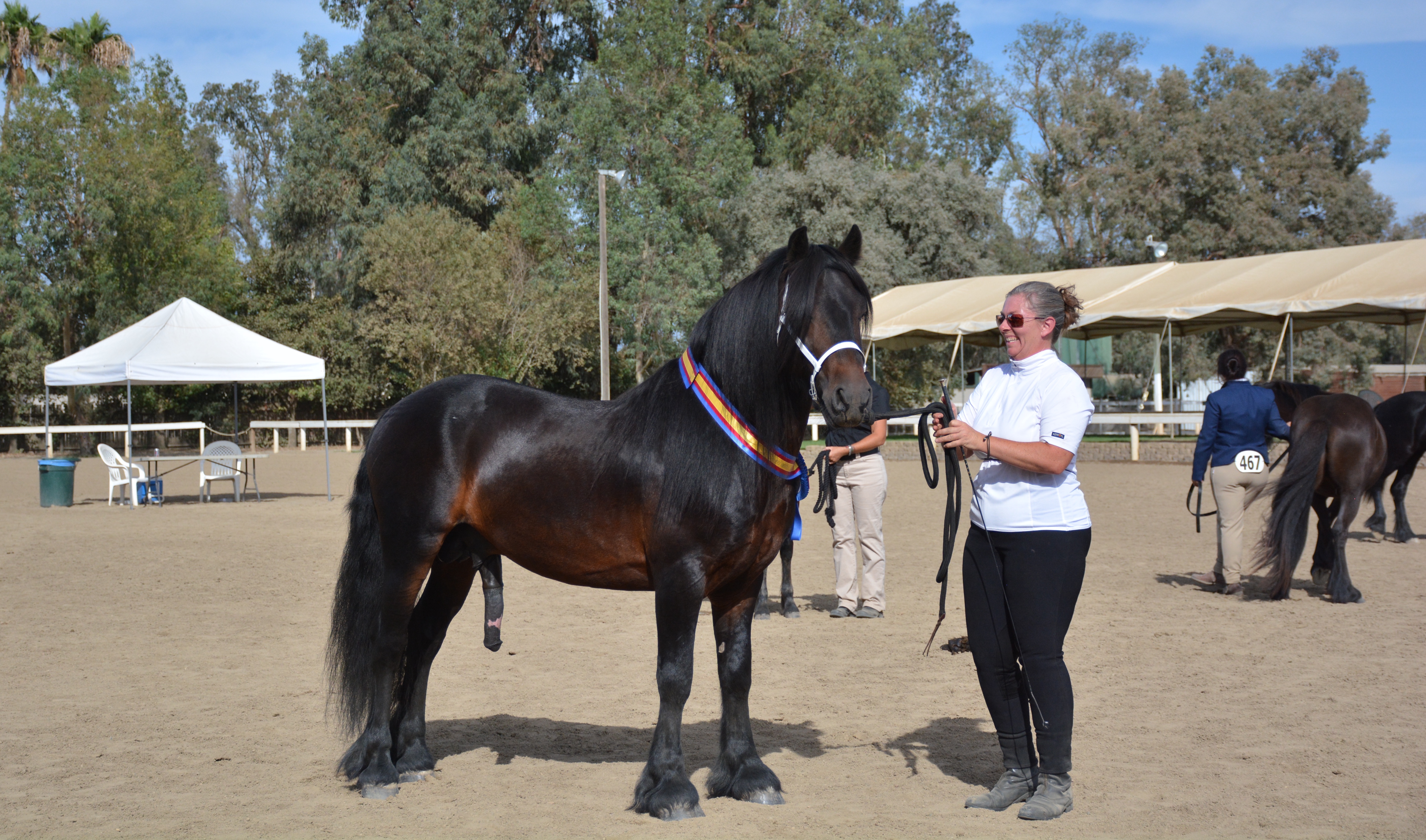 Copper at Brookside 2015, taking Stallions, Breed, and M&M Supreme. photo by C. Dutton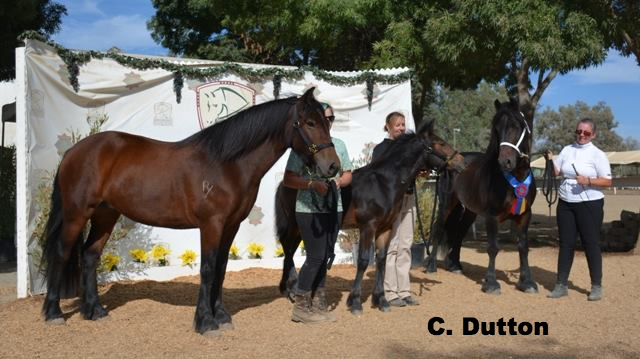 Braeberry Ruby, Braeberry Bodi, and Copper at Brookside. C. Dutton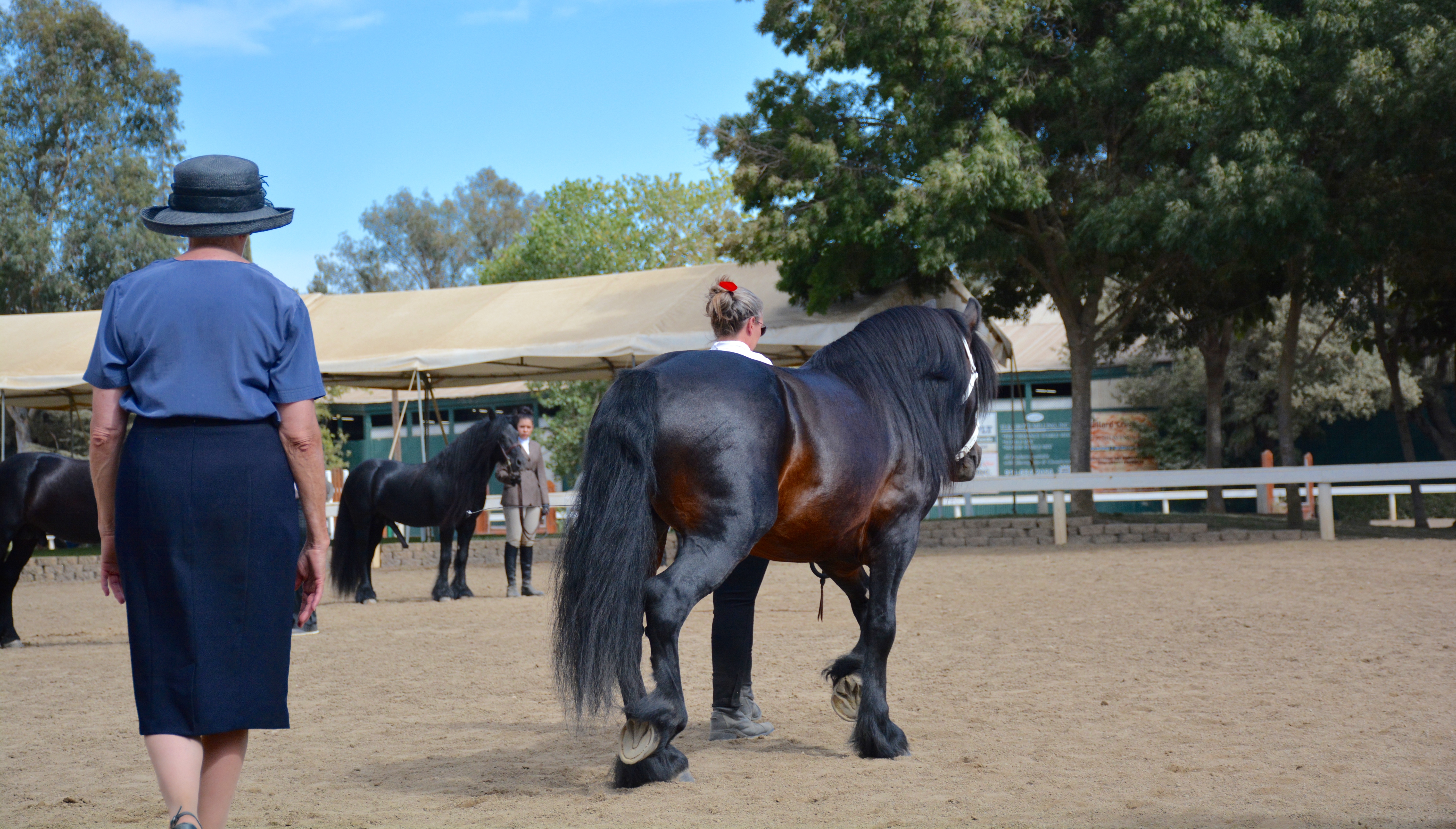 UK Judge Megan Lewis observes Copper's 'down and back'. Brookside 2015
********************
In 2014 and 2015, Copper attended the National Mt. Trail Championships held at the Oregon Horse Center in Eugene, Oregon. Mt. Trail/Extreme Trail and obstacle/task based work is a focus in our training program. We have found Fell ponies to have many of the desirable traits it takes to do well in these disciplines: a positive mindset, analytical, physically stable, sure footed, and effective communicators.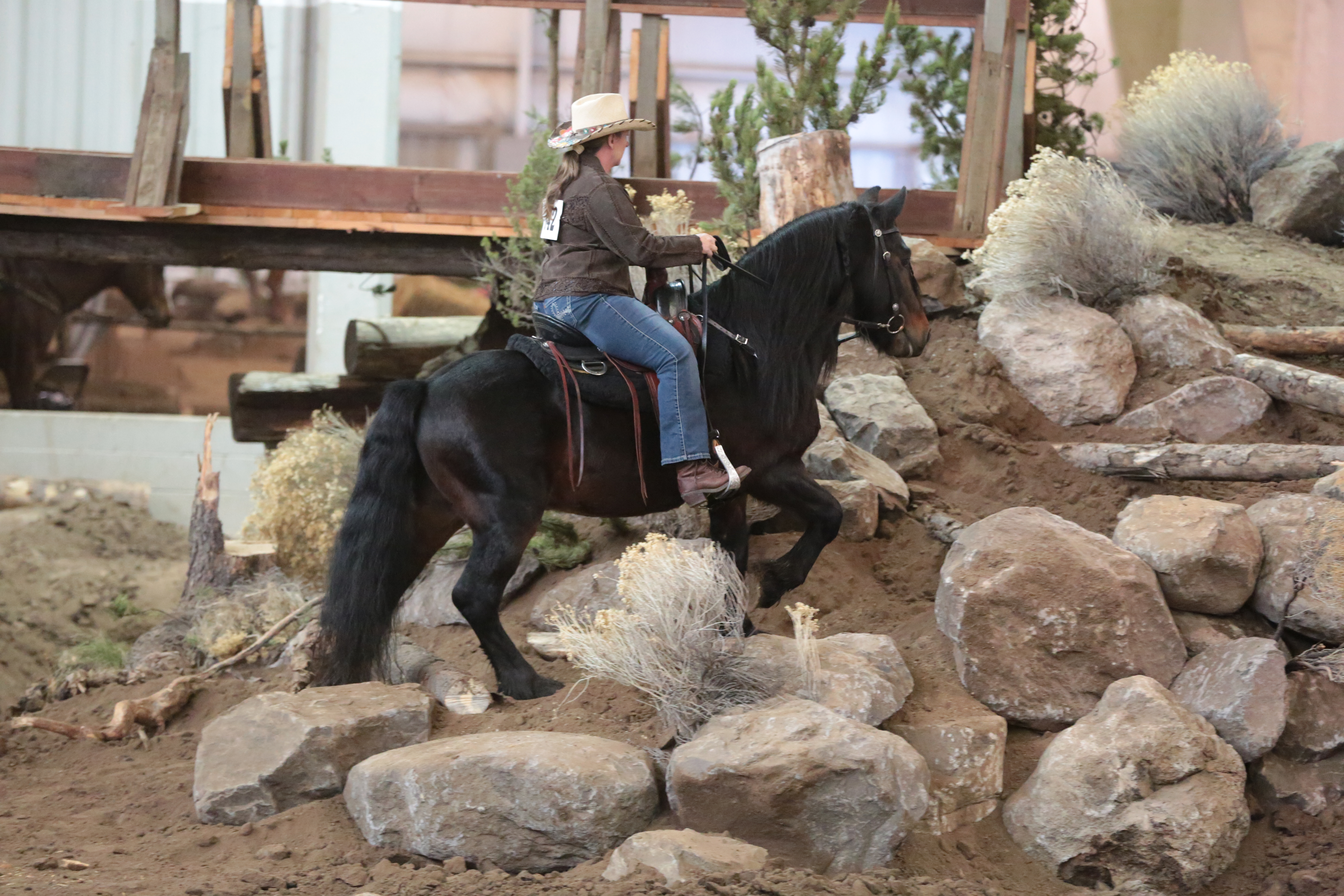 2014 National Mt. Trail Championships, photo by Chris Sloan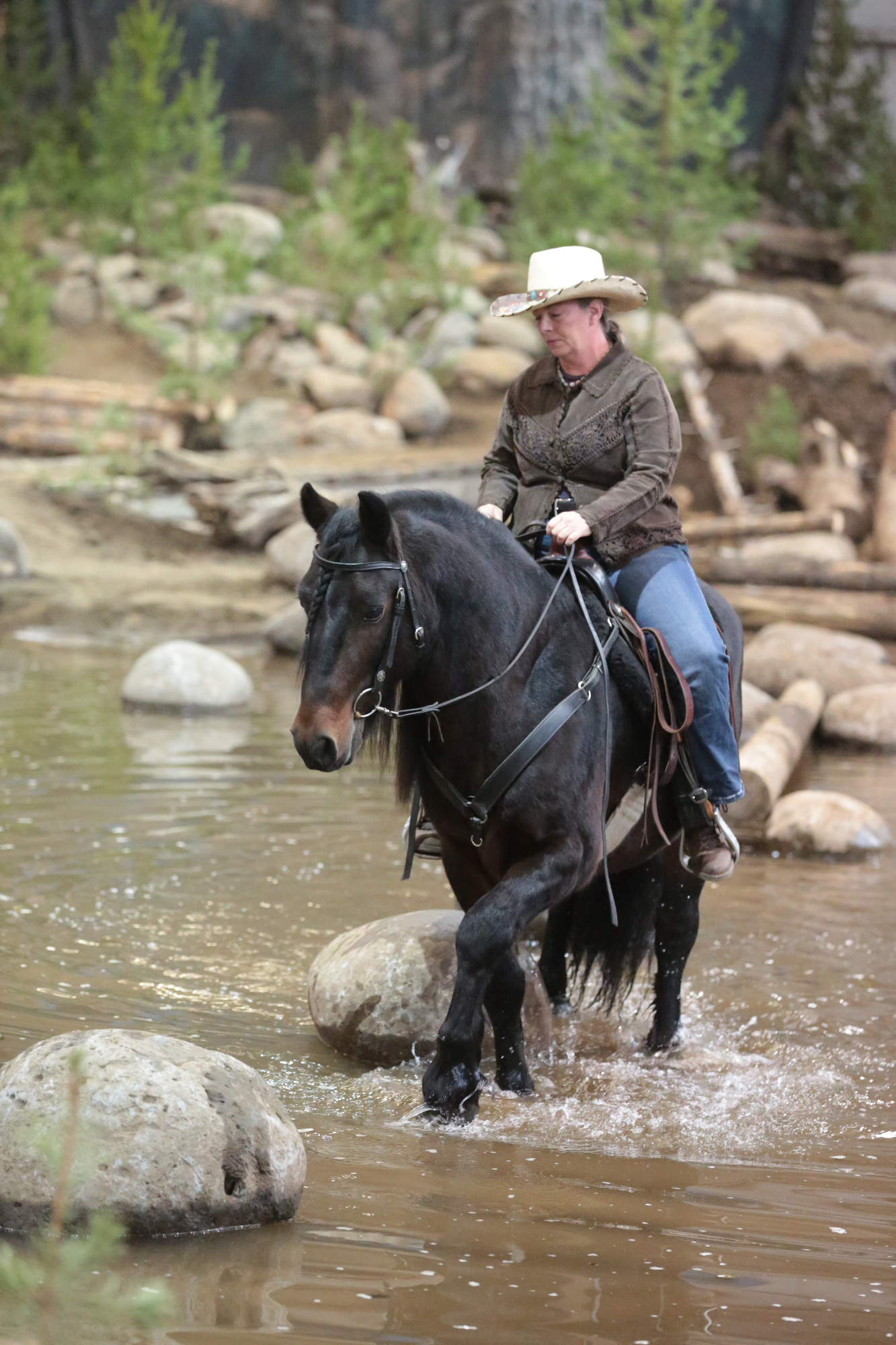 2014 National Mt. Trail Championships, photo by Chris Sloan
********************
Copper sometimes works as a mentor in our Get Grounded training program. He has helped wean foals, ponied others on the trails, and stood present while others are in their training sessions. The main purpose of a mentor is to help create an atmosphere that sets examples and minimizes stress. We are pleased that, despite being a stallion, Copper has the discipline and temperament to participate as a mentor.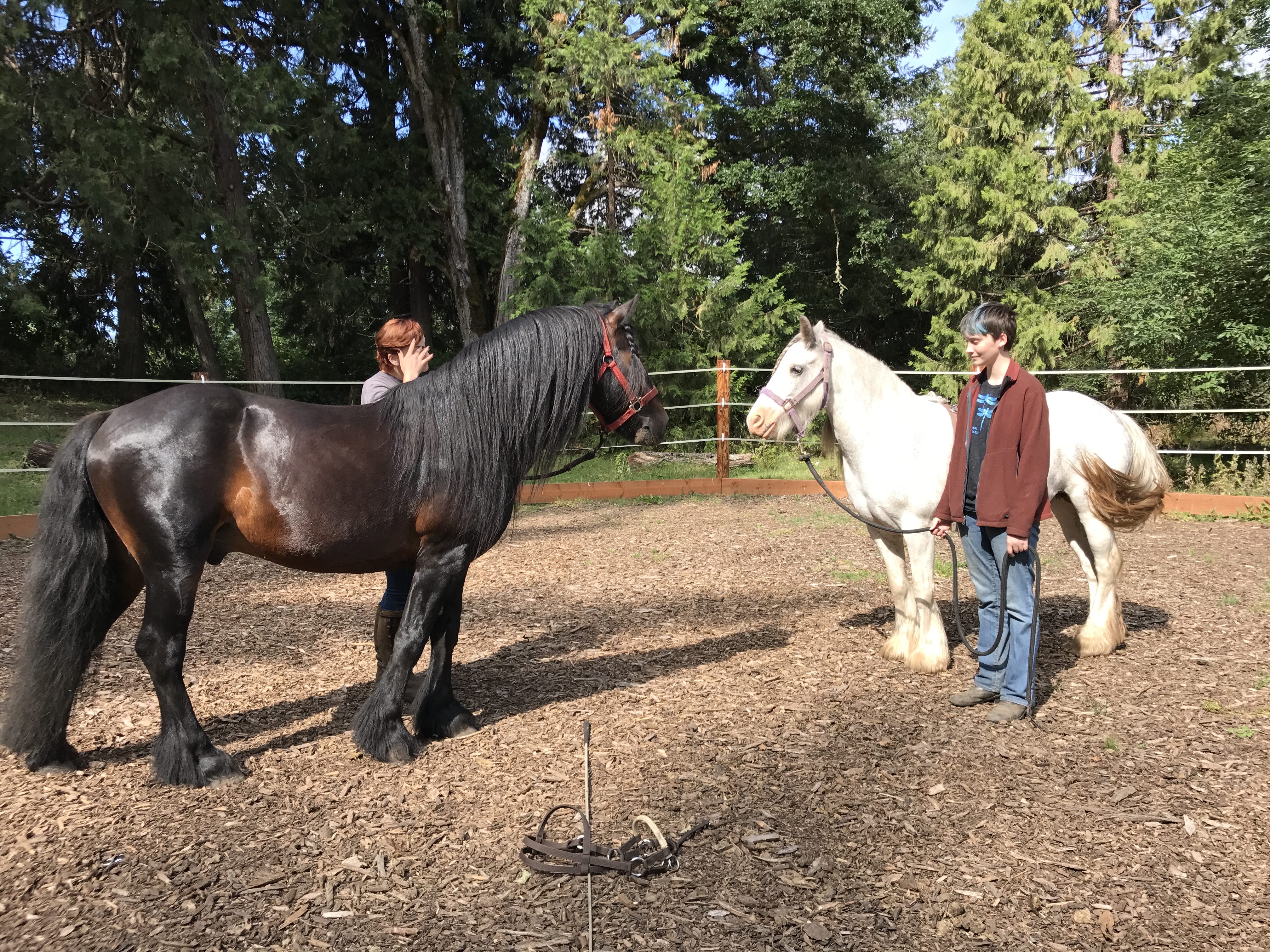 Copper greets a new student in the round-pen. circa 2017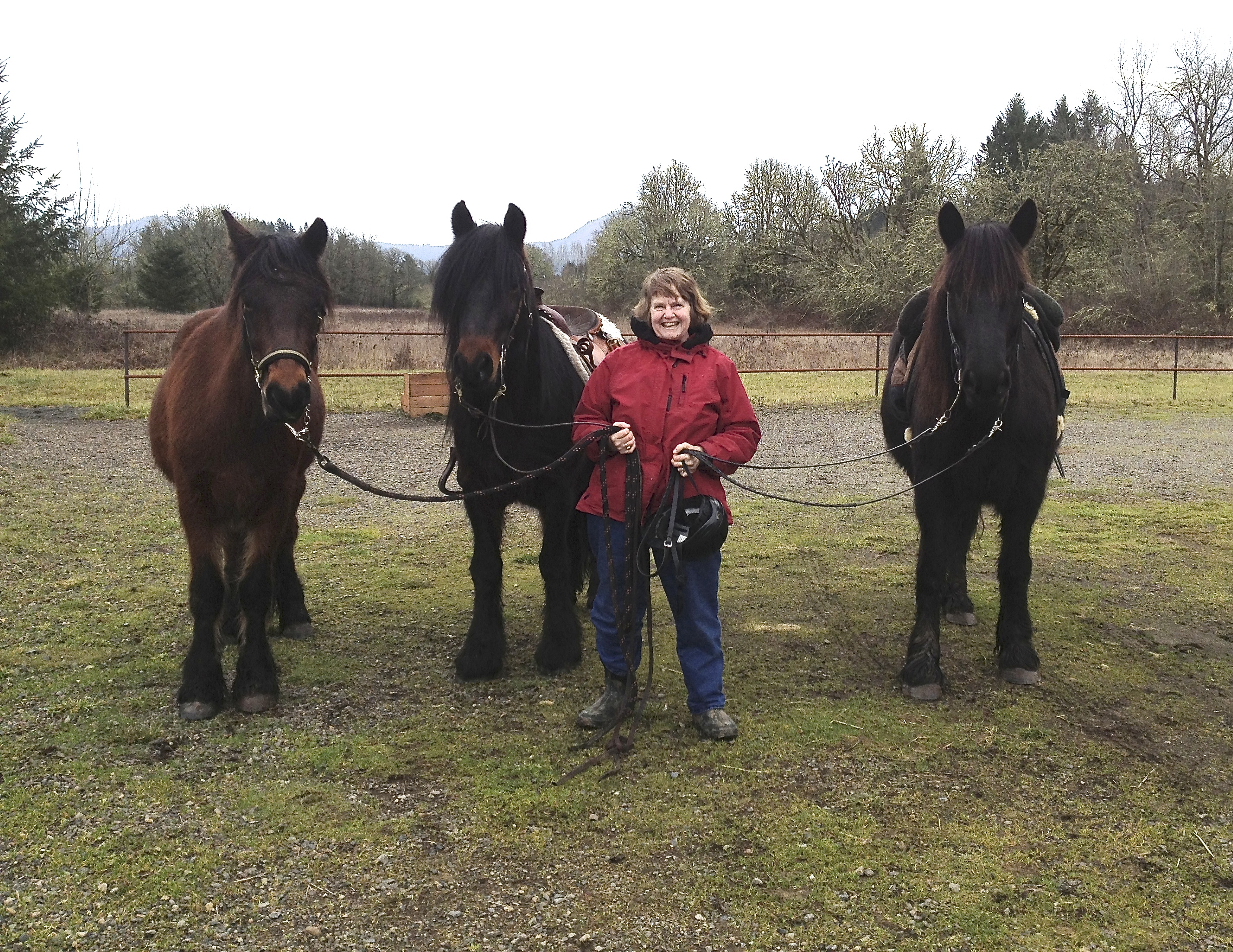 Copper (center) coming off the trail with his progeny/student (Braeberry Victor, left). Braeberry Barnabas is on the right. c. 2013
********************
In 2015, Copper and Barnabas were invited to ride in the Westward Ho Parade that takes place during the Pendleton Round-up in Pendleton, Oregon. I'm sure they were the first Fell ponies to hit this well known western scene.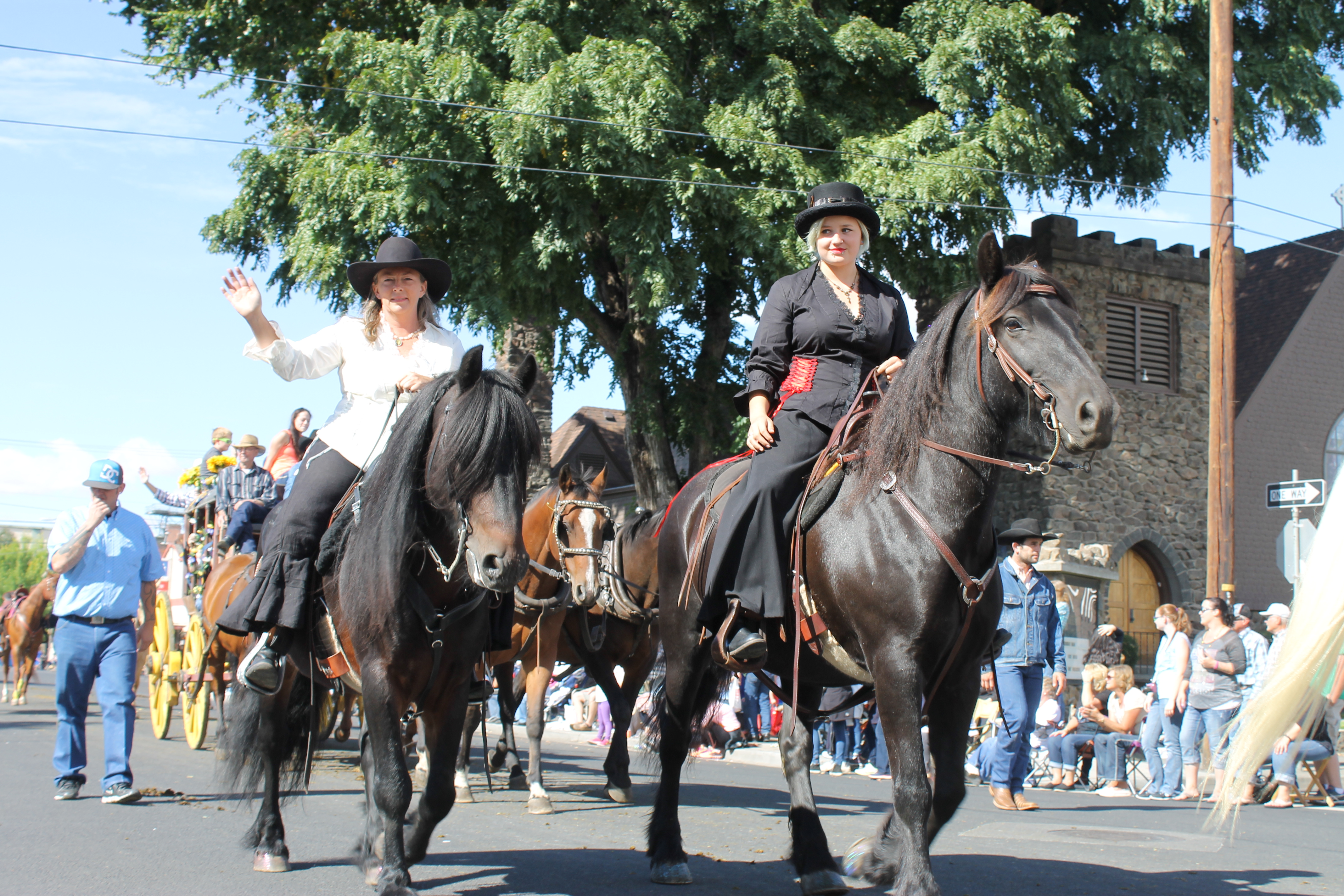 Copper and Bing (Barnabas) at the Pendleton Parade. c. 2015
********************
In 2014, Copper participated in on-line agility competitions through the International Horse Agility Club. Copper is very good at working off-lead at eye level. He enjoys connecting and moving together.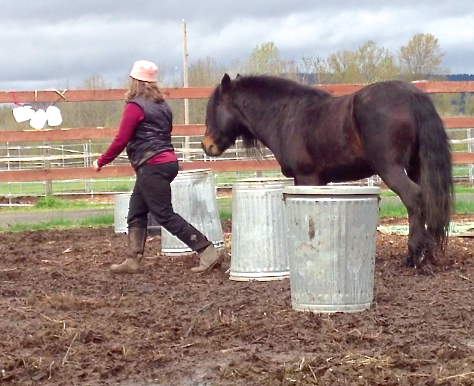 Weaving 'barrels' at liberty.
Copper doing his International Horse Agility test. Some people train to do this with treats. I use body language and body position to communicate with Copper how we will navigate together and complete the task.
Another agility test. c. 2014
We did this video for the Stallion Showcase at NW Horse Expo. Copper practices his liberty routine with me in beginning and end of video.
********************
If you would like to see more photos of Copper you can look here: Copper Photo Album and Mt. Trail
If you would like to check out Copper's progeny: