Baking the Cupcake
Ingredients: Quality Parents * Positive Human Experiences * A Herd Family
Brooke went to his new home 15 months after he was born. Some youngsters leave earlier than that, others not until they are ready for training. All of our foals are born out on pasture with the herd close by. After a time of bonding with their moms, they learn about family and socialization. Our goal at FiddleHead is to provide a living environment that fosters healthy physical, emotional, and cognitive development.
Born June 23, 2016. Brooke's dam, StoneCreek Black Crystal, opted to have privacy and foaled in a wooded area of our property away from the others. It was a hot day and I was worried that she would not bring him up to the watering hole as she was still in her bonding time with him. So I brought water out to her.
After about a week, we brought Crystal and Brooke into our round-pen to see a bit of his movement.
When our 2016 foals all reached at least 3 weeks of age, we loaded them for their first trailer ride with their dams to a 40 acre pasture about 20 miles away from where they were born. Here they stayed until weaning time. Brooke is on the right with FiddleHead Harimanna (Fell/Appy) and FiddleHead Astrid (Dales).
We are a small program, but do like to have at least 2 foals per year so the foals have playmates. Harimanna liked to interact with Brooke more than Astrid.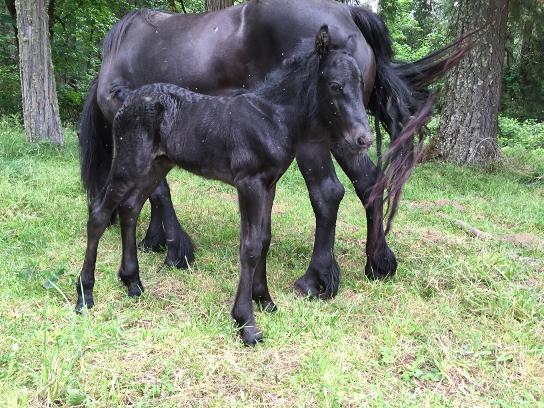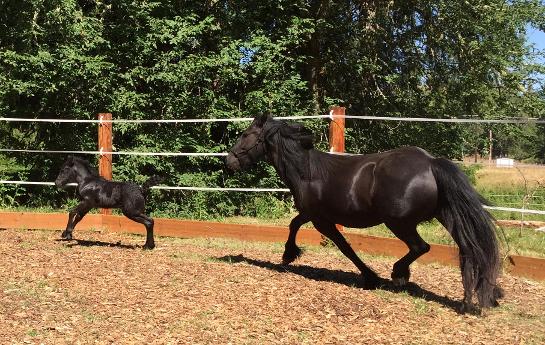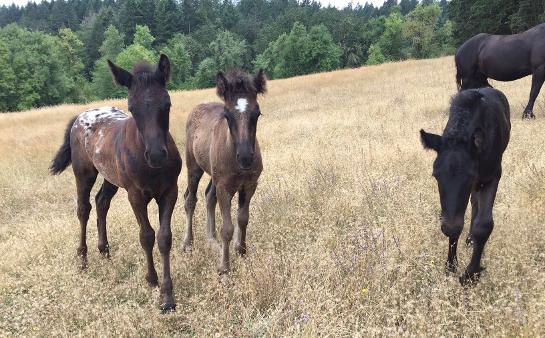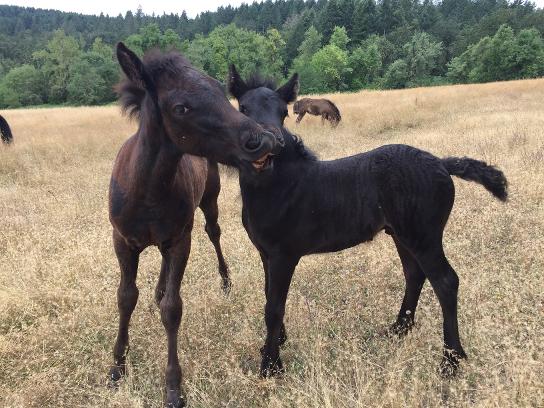 Unless one of the ponies need vet or farrier attention, all of our interactions with the foals is when we come to visit them in their space. They drink from a natural spring and there is enough grazing to sustain them. When we come to visit and check on them, we bring apples or carrots. In the late summer, we pick black-berries for them and ourselves. The foals love to be scratched and interacted with in this free way.
When Brooke was ready to wean, he and Crystal were brought back to our training property where he was born. Over a period of 3-5 days, we have him spend more and more time with a mentor away from mom. Crystal was in an adjoining pasture where she could come and check on him as needed. Here he is sharing some Chaffhaye with Braeberry Barnabas (Bing). Bing has helped take care of many weaned foals and usually takes just as good of care as their mom. We find this method minimizes stress for both foal and dam.
After weaning is complete, we spend more time with Brooke teaching him basic skills such as tying, leading, and grooming. Of course, Bing is always along for example and support. We also took Brooke to various trails for hiking with other horses who are either riding or hiking as well.
Brooke on a hike while his pasture mates get their riding lesson for the day. Babies are allowed to stop and graze.
All Fell foals need to be registered with the Fell Pony Society before the end of the year they were born in. Since most Fell ponies have no or very little white marks, identification happens by noting the whorls on their body. Naquel and Jack are locating all of Brooke's whorls and I am recording them on his registration form.
After Brooke was solid with basic human handling, he went back to the 40 acres, wintering there with most of the herd. Here he is the following spring with FiddleHead Bass who was born late fall 2016. The foals always look a bit ragged in the early spring as they are shedding dead/matted winter coats.
In the Fall of 2017, we started Brooke on some ground-work with body language and navigating obstacles. This kind of work can happen with the youngster anytime between weaning and 2yr. We taught Brooke how to pay attention to our body to tell him what to do with his body. He learned to move his shoulders, backing, and moving his haunches.
Brooke learning to pay attention to Naquel's body.
Brooke center stage with 2016 foals and their dams.